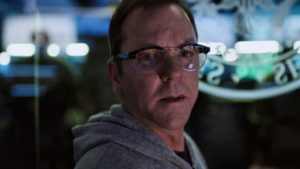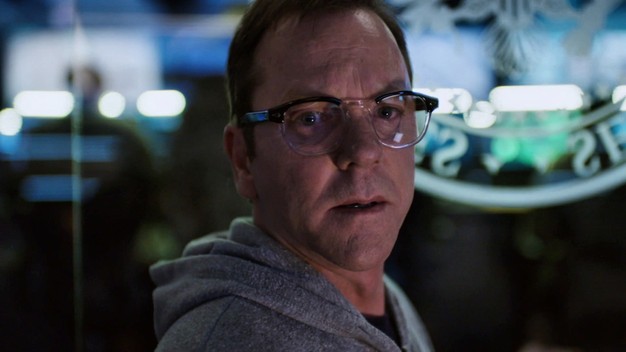 I've only watched one new show so far among the many debuts that are cramming my Tivo… DESIGNATED SURVIVOR. It's a great idea, but the execution left me cold. it's a show about a low-level cabinet member, played by Kiefer Sutherland, who becomes president when the U.S. Capitol is bombed during the State of the Union address. You know he's unprepared to lead because he wears glasses.
I was intrigued by the politics of the concept but the cliche mad general, the network-required family crap (the perfect wife, the adorable daughter, the the drug dealing son, seemingly all computer generated by screenwriting software), pulled me right out of the show. So did the lame stuff with the hero's chief of staff,a supporting character who couldn't get into the White House… and then somehow did in the midst of a nightmare terror scenario. Then she couldn't see the president…then somehow got into the Oval Office. That's either sloppy writing or sloppy editing — it's a toss up which is to blame. I won't be returning for episode two.
On a side note, it seems to me that we now have a record number of shows about the White House on television — HOUSE OF CARDS, SCANDAL, VEEP, MADAM SECRETARY, 24: REBOOTED, and now DESIGNATED SURVIVOR. (Maybe I've even overlooked a couple). I think before THE WEST WING came along, the only network show about the White House was Fox's short-lived MR. PRESIDENT…but I could be wrong about that.