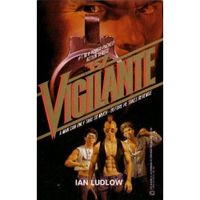 .357 Vigilante, the first book in my long out-of-print paperback series, is now available in a Kindle edition.
I wrote it under the pseudonym "Ian Ludlow" (so I would be on the shelf next to Robert Ludlum) back when I was a college student in the 1980s. The movie rights were sold to New World Pictures…and my career as a screenwriter was born. Alas, the movie was never made. Here's the scoop on the book:
A Man Can Only Take So Much…Before He Takes Revenge.

He lost a father, a friend, a whole way of life…now he's looking for justice down the barrel of a gun.

Brett Macklin was a freewheeling son of sunny California, a collector of vintage cars and a connoisseur of beautiful women. But when his father is gunned down by a street gang, Macklin becomes something else — a deadly weapon against crime. He won't stop until he's wiped out the rapists and killers who have turned Los Angeles into a war zone.

"As stunning as the report of a .357 Magnum, a dynamic premiere effort […] The Best New Paperback Series of the year!" West Coast Review of Books
The sequel, .357 Vigilante #2: Make Them Pay is also available on the Kindle….and will soon be followed by the other books in the series.