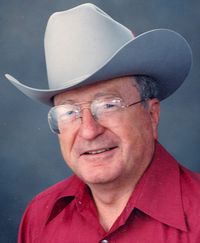 I just learned the terrible, sad news that one of my favorite authors, legendary western novelist Elmer Kelton, passed away this morning. He's considered one of the greatest writers of westerns ever…in fact, he was named the number one western writer of all time by the Western Writers of America, which has honored him with seven Spur Awards for Best Novel. 
His best known work is probably THE GOOD OLD BOYS…thanks to the Tommy Lee Jones movie version… but his many memorable novels include THE TIME IT NEVER RAINED, THE SMILING COUNTRY, HONOR AT DAYBREAK, SLAUGHTER, THE DAY THE COWBOYS QUIT, and his "Texas Rangers" and "Sons of Texas" series. 
I don't think he ever got the credit and recognition he deserved outside of the western genre and that's a damn shame. His books weren't just great westerns…they were terrific novels by any measure. I was lucky enough to meet him once, a few years back, when he was in Los Angeles and found him to be a gracious, friendly, and funny man. He will be missed but I'm convinced that his work will continue to captivate, entertain, and enlighten readers for generations to come. 
UPDATE: Bill Crider,a top-notch western writer himself, remembers Kelton.