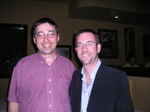 Tonight I went to the author's reception for the Palm Springs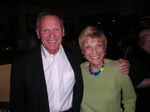 Book Festival, where I will be appearing in front of all my adoring fans (my Mom, a vagrant, my brother Tod). I had a great time catching up with old friends like Carleton Eastlake, Loraine Despres, Christopher Rice, and Gregg Hurwitz (and his lovely wife). And I made some new friends, like Eric Shaw Quinn and retired SEALS Charles O'Connor and Ross Hengebrauch. My daughter Maddie absolutely loves QUEER EYE FOR THE STRAIGHT GUY, so when I spotted Ted Allen, I had to have my picture taken with him. Maddie was blown away. Meanwhile my Mom, Jan Curran, got up close and personal with Tab Hunter. And I've got the photos to prove it.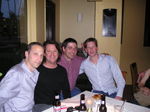 (First photo is me with Ted Allen, the second photo is my Mom with Tab Hunter, and the third photo is me with Gregg Hurwitz, Eric Shaw Quinn, and Christopher Rice).