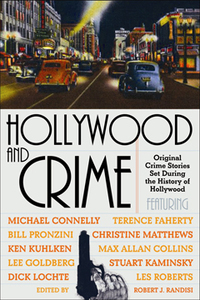 I got a nice surprise with my breakfast bagel this morning. Paula Woods reviewed the anthology HOLLYWOOD & CRIME in today's Los Angeles Times and gave my story a rave:
Lee Goldberg's "Jack Webb's Star," is a riotous caper crime with a
nasty twist that starts in a traffic school class in the Taft building,
where among the offenders is a hapless man ticketed for drunk driving
in his wheelchair.
She also singled out stories by my friends Dick Lochte, Gar Haywood, and Michael Connelly for praise.
You can order the book here.