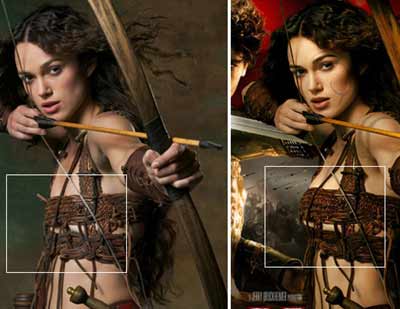 Defamer reveals that Keira Knightley's breasts were photographically enlarged for Disney's KING ARTHUR ad campaign. See the photos for yourself here…and here
This isn't the first time Disney has digitally altered the actress. They also reportedly erased her erect nipples in an early scene of PIRATES OF THE CARIBBEAN.
So, I guess in the Magic Kingdom, the ideal woman has ample boobs and nipples that behave. Or is a very large mouse in a dress.
UPDATE: There was a wonderful analysis of the BEFORE and AFTER photos of Keira Knightley on the blog tagline…
Before: "Rrrarrrrgh, I'm a badass Celtic warrior princess. I'm not here to fucking seduce anyone. Come here, little man, and I shall rip your balls off with my teeth."
After: "Oh, hiiiiiii. Listen, I think I must be lost. I was supposed to be fighting, like, an evil army, and you boys look way too cute to be evil! Don't you like my halter top? It's made of hemp."