Last night, I was in TV Geek heaven…
I went to the Television Academy's salute to TV themes at the Hollywood Bowl. It was wonderful, with the Hollywood Bowl orchestra playing salutes to Earle Hagen, Jerry Goldsmith, Vic Mizzy and Stu Phillips, among other things.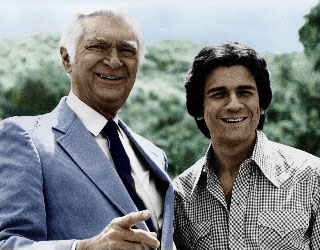 The show included some of my favorites themes — "Mod Squad," "Virginian," "Green Acres," "Addams Family," "Wild Wild West," "Hawaii 5-0," "Peter Gunn," "Gunsmoke," "Room 222," "Man from UNCLE," and "Barnaby Jones — accompanied by the main title sequences on the big screens. The Rembrandts showed up play "We'll Be There For You," the Smothers Brothers did a schtick over clips from their variety show, and there was a nice set piece on great television choreographers. They also featured suites from "Deadwood," "Jag," and, as the big fireworks finale, "Battlestar Galactica."
My nine-year-old daughter turned to me afterwards and said: "I think I'm beginning to like classical music."
I thought about telling her nah, it's just TV themes… then again, better she thinks of me as a man with refined tastes than as a big tv geek.