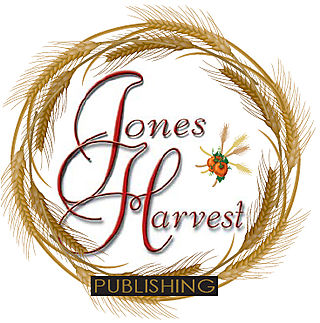 Bonnie Kaye, who was a key player in the demise of the Airleaf vanity press scam, is now leading the charge against Jones Harvest Publishing, a sleazy vanity press run by Brien Jones, a former Airleaf exec (who is also doing business as Author Celebrity, Starred Review, Great Concept Books, Book Wheat  and Author Profile, to name just a few).
She has launched JonesHarvestFraudVictims, a blog for people who claim that they've been swindled by Jones. She writes:
In the aftermath of Airleaf Publishing's demise, the former Executive
Vice President, Brien Jones,
has "re-invented" this system all over
again
in his own publishing business.  Although Mr. Jones swore he was
not the man to be blamed behind Airleaf's fraudulence, the
investigation conducted by a number of members of the Airleaf Victims
support group has proven that this is not the case. Mr. Jones was no
innocent victim of Airleaf fraud as he proclaims like the authors who
bought their worthless promises—in fact, he perpetuated much of it.
According to a dozen ex-employees, Mr. Jones was the mastermind behind
the worthless promotions of Airleaf that he was pitching.
Brien Jones has cast himself as an innocent victim who is being trashed by "baseless and vicious attacks from competing publishers," even though his critics aren't publishers at all.
I was an employee of another publishing company and despite being
called the "mastermind" of this operation I was not in charge of
anything at all. I never had access that company's check book, company
credit cards, accounts payable, or accounts receivable. I never saw a
bank statement, not one time. Most amazing of all,
I was not allowed to look at the mail
!
I also had no information, none, about book sales. Despite nearly constant pleas I never had any clue how many copies of client's books were sold.  I had no clue how many of MY books were sold, even though I had to pay out of my pocket (just like the other authors) to print them! I DO know that I never got paid a percentage of any book sales, including my own.
[…]When
I left that publishing company it was up to me to decide how much of
the responsibility was mine. I decided I deserved my fair share of the
blame. So I sent out apologies. I published 30 books for free
(including the crusader's), and 30 more at our hard cost. I also used
and use the same vendors that got stiffed by my former boss. In other
words I have done all I can to atone for my role in that other company.
Since many of our client's now were clients there, I guess we must be
doing something right.
That's one way of looking at it. Another would be that he's suckered the same suckers again using the same schemes that worked so effectively at Airleaf (which seem primarily targeted at senior citizens). He's not the only one who has seemingly gone back to the Airleaf playbook for inspiration. As Writer Beware notes:
Airleaf has spawned several publishing enterprises run by ex-staff–including
Fideli Publishing
, a fee-based publisher whose
marketing packages
bear an eerie similarity to Airleaf's, and
Brien Jones's Jones Harvest Publishing
,
which also charges fees for publishing and offers many Airleaf-style
services (Writer Beware has gotten some advisories about Jones
Harvest's
email solicitations
,
and Mr. Jones has recently chosen to reimburse several Jones Harvest
authors who alleged performance problems). If you trace the family tree
backward instead of forward, you arrive at the Big Daddy of POD vanity
publishing, AuthorHouse, where Brien Jones was employed before he
co-founded Airleaf's predecessor, Bookman Marketing. It's a tangled web
indeed–which, sadly, is not unusual in the murky world of vanity POD.
Sadly, many of the desperate, and insanely gullible, aspiring authors who were swindled by Airleaf learned nothing from the experience…and have gone running from one vanity press scam right into others.
Kaye organized over 450 scammed authors against Airleaf and succeeded in getting the Indiana Attorney General to shut the company down. I wonder how many victims she will rally together this time…