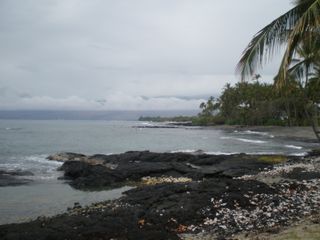 It's been cloudy and  rainy for the first three days of Left Coast Crime 2009 here on the Big Island of Hawaii, but it hasn't dimmed the enthusiasm of the attendees.  Bill & Toby Gottfried have always delivered great conventions and I am pleased to  report that LCC 2009 is no exception.
I haven't attended many panels (besides my own) but I've enjoyed chatting with readers and authors, something the layout of the vast, open lobby encourages with many comfortable sitting  areas where you can feel the warm ocean breeze (without getting soaked  by the rain). On the first night, I spent a few hours chatting at a table with authors Robin Burcell, Tim Maleeny, and Jonathan Hayes…and as time went on, our number grew to include Twist Phelan, Barry Eisler, Rhys Bowen and Meg Chittenden (by then we'd moved down to the poolside bar). I'd never met Jonathan before  — he's a Senior Medical Examiner in Manhattan and wrote a serial killer novel called PRECIOUS BLOOD. You'd think he'd be a dark and brooding fellow, but he's quite the opposite…charming, funny, and a terrific storyteller. I'm going to have to read his books now.
Twist told me that she and author Jan Burke got lost on their way to see the volcano, which was probably a good thing, because Denise Hamilton and her family also headed there and got so bogged down in heavy rain, that they gave up and camped out at a hotel in Hilo for the night instead.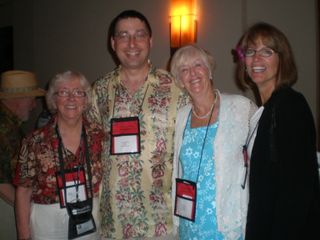 Yesterday I sat in on a readers group that was discussing one of my DIAGNOSIS MURDER  novels and that as great fun for me. I was also on a panel about humorous mysteries and my fellow panelist Parnell Hall had the audience howling with embarrassed laughter as he described his battle with an auto-flushing  toilet in a New York airport.  We only discuss lofty writerly issues at these conferences.
I have no silly questions to share with you today or salacious gossip…but i'm working on it.
(pictured on the right…Meg Chittenden, me, Rhys Bowen and Robin  Burcell).