This advertisement was in Variety yesterday (click on it for a larger image):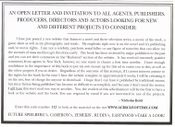 All Nick has really done with his $5000 is announce that he's a clueless moron to all the entertainment industry executives enjoying their morning bowel movement.
But in his own way, he has performed a public service. His advertisement is actually a primer on how NOT to sell your novel, TV series, movie, game show, photography, music, or 1997 Honda Civic to Hollywood.
(Oh, and here's a helpful hint to all the future Spielbergs, Camerons, Eastwoods and Nicks out there — before you set out to write your next book, TV series, movie, game show, song, or ad in Variety, you should know that an apostrophe S doesn't make something plural).
I couldn't resist checking out his site. Among his projects for future Spielbergs, Camerons and Eastwoods is a treatment for THE RETURN
FOR MAGNUM PI, which he registered with the WGA in 1994 despite the
fact he doesn't own the underlying rights. Since then, he's apparently changed his name from Nick Oliva to Nick Bold, perhaps to embrace the new boldness of his writing. I also read the first five pages of his important new book. Here's one of my favorite passages (the italics are his):
I felt my heart pounding in an uncontrollable tidal surge of affection as we sat and laced up our skates.
And this:
She embraced herself and gracefully slid her hands down opposite arms, creating bountiful cleavage that she stared into before looking over to me, offering herself with an outward shrug of her right shoulder much the way a cat lifts its bottom.
He's threatening to give this novel away free, but I think even that is charging too much. I wonder if Nick is a member of the Colonial Fan Force? If not, he should be.
UPDATE 11-20-06: He ran the ad again today…because there were typos on his website. He didn't bother to correct the grammatical errors in his ad, though. What a moron.