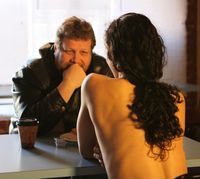 This has been a great week for my short film Bumsicle, which I wrote and directed in Owensboro, Kentucky last year. We were picked up by both the Big Island Film Festival in Hawaii and the Cape Fear Film Festival in North Carolina. 
So far, "Bumsicle" has been selected by half-a-dozen festivals… from Hawaii to North Carolina, from Oklahoma to Kentucky. There are still thirty festivals that we've submitted to and haven't heard from yet…but at least we're on par now with Remaindered, the short mystery that also featured Todd Reynolds as Detective Bud Flanek. Clearly I am going to have to do a third short one of these days about Flanek.
These festival picks are the result of the wonderful work done by actors Todd Reynolds, Rick Montgomery, Sadia Brimm, and Josh Loren, singer/song writer Matt Branham, producers Rachael Nunn, J. Laine Nunn, and Roxi Witt, and everyone else in our talented cast and crew. I'm so glad they they are getting some notice outside of Owensboro for their work.
UPDATE 3-21 Bumsicle has been nominated for Best Dramatic Short at the Bare Bones International Film Festivals in Oklahoma. Winners will be announced April 14.