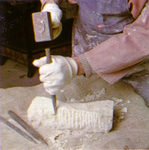 I spent the day writing yesterday…but I am being generous. I only got a few pages done and it was like chiseling at stone. Today I looked at the crap I wrote yesterday and was convinced that I've lost whatever minimal talent I had. My days as a writer are over. Then I read an excerpt of Walter Mosley's book THIS YEAR YOU WRITE YOUR NOVEL in Oprah magazine…and felt much better.
If you skip a day or more between your writing sessions, your mind will drift […] You will find that you'll have to slog back to a place that would have been easily attained if only you wrote every day.
He's right, and of course I already knew this, but I'm a writer, so I am naturally insecure. The fact is, I didn't write for two days because I was bogged down with catching up on my life (after four months away from home) and with FAST TRACK stuff. So when I finally sat down with the book again, I was starting from a dead stop. It should go a bit better today…then even better tomorrow.