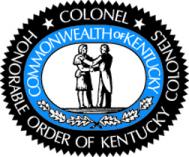 I did a little research into what it means to be named a Kentucky Colonel (as I was a few nights ago here in Owensboro). It's the highest honor awarded by the Commonwealth of Kentucky and is given by the Governor and Secretary of State to "those who make exceptional efforts to enrich
the lives of Kentuckians and the world at large."
I'm joining a distinguished (and eclectic) list that includes Pope John Paul II, Bob Barker, Bill Clinton, Billy Ray Cyrus, Bing Crosby, Barry Manilow, Ronald Reagan, Peter Graves, Norman Schwarzkopf, Winston Churchill, Wynonna Judd, Tiger Woods, and, of course, Harlan Sanders. To say I am flattered…and stunned…is an understatement.
Yesterday, Colonel Goldberg went to Nashville and did all the tourist stuff. And ate at Jack's BBQ…twice. It was the best BBQ of the trip so far. Today Gene Hackman and CSI creator/showrunner Anthony Zuiker join the Festival here in Owensboro. The Colonel is looking forward to meeting them both.