I typed a big, long post and then hit save…and my browser crashed. I HATE it when that happens. So I will try to reconstruct the post as best I can.
I began the day by doing a phone interview with a local morning radio show from the comfort of my bed, still half-asleep. I told the DJ that all the women in the offices at the RiverPark Performing Arts Center listen to him while they shower…and that I was doing his show so I could say women listen to me while lathering up, too. I think  he liked that…but I don't think the women at the front office did.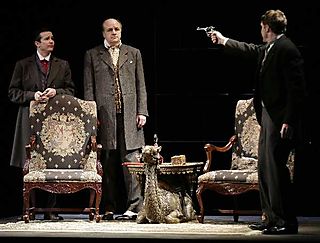 I had a pleasant surprise at breakfast. I sat down at my power table at Denny's, opened up the Owensboro Messenger Inquirer, and saw that tonight's free, out-door screening of FAST TRACK and an interview with me was front page news. Either I am very hot stuff or there isn't much going on in town. I'll let you decide.
I stopped by the International Bluegrass Museum. I don't know much about that kind of music, so it was very interesting for me. After that, I spent the rest of the day being a geeky mystery fan, attending one mystery play after another. It was great. I talked to so many nice people…but I must share with you the story of one lady who meant well, but…
I was sitting with Bob Levinson and his wife at one play and, during  the intermission, a woman came up to me and asked:
"Do you have something to do with this Festival?"
"Yes, I wrote one of the plays," I said. "And I am doing a few seminars about TV writing."
"Oh, you're that man who writes for Monk."
'Yes, that's me."
"I don't like the Monk show very much, and I haven't read your books and probably never will, but I think Tony Shalhoub is a good actor and you must be very talented. I wanted to tell you that."
I thanked her, shook her hand, and off she went. I know she didn't mean any offense.
Here's another example of how nice people in Owensboro are. During the performance of an Agatha Christie play, an old lady in the fifth row kept talking very loudly to the characters on stage…things like "You aren't fooling  me, honey," "he's the killer," and "I don't like him." Nobody told her to hush, they just smiled and let it go. In California, she would have been dragged out onto the street and beaten to death. Kentuckians must be very polite people.
Tonight, I saw fireflies for the first time in my life. I was very startled. At first I thought they were big embers and the building was on fire. Once I realized they weren't embers, I chased them around and stared at them in amazement. People seemed to find this behavior very amusing. Some even took pictures ("Look, Eunice, I got me a picture of a lunatic from California." No one actually said that, but I'm sure that's what they were thinking).
The screening of FAST TRACK went well, despite some technical glitches and me running back and forth in front of the screen, chasing fireflies around.
I am looking forward to spending the day tomorrow in Nashville before returning to the Festival on Saturday.