Here are the new covers for MY GUN  HAS BULLETS, DEAD SPACE, and THE MAN WITH THE IRON ON BADGE, all designed by Carl Graves.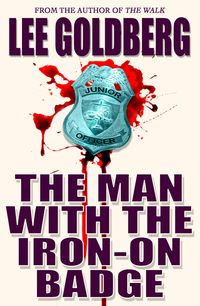 GUN and SPACE share the gun/bullet hole motif because they feature the same hero and the same comedic tone. This is the most professional, and the best, MAN WITH THE IRON ON BADGE cover yet. I think I've finally got that one right.
I am confident, based on past experience, that I will see my sales go up as a result of the cleaner, simpler, more professional covers and the "branded" look that's consistent with the previous covers that Carl designed for me.