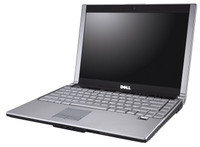 I used to be a loyal Dell owner and an enthusiastic cheerleader for their products. They used to make great machines and they backed them up with top-notch customer support.
Those days are gone.
About two months ago, I bought a XPS M1330 laptop because its light, its fast, it was well-reviewed and it's a Dell, which I associated with quality. I took it out of the box and before the day was over, the stickers on the back — which say "XPS" — had peeled off. I called Dell and asked for new stickers. But rather than sending me stickers, they sent a service man to my house who had to replace the entire back panel of my machine. Two days later, the stickers fell off again. I should have seen that as a warning sign.
A week or two later, and a day before going to Europe, I turned on my machine and couldn't access the operating system. I spent three hours on the phone with their support people…but they couldn't solve the problem nor could they tell me the cause. They only had one solution: reformat the hard-drive and re-load all my software. It took me an entire day to do it and it was a nightmare.
On the airplane to Germany, the computer crashed (a blue screen "physical memory dump") and rebooted. And every day after that, at some point, the computer would crash and reboot again. I called Dell, spent more hours on the phone, and they couldn't find a solution. Their best guess was that it was a problem with my Norton 360 software. I called Norton and they said it was clearly a hardware problem.
So, I lived with it, backing up constantly. This weekend, within hours of arriving in New York on another business trip, my XPS crashed again. Only this time, I couldn't access the operating system. I called Dell and after another two hours on the phone, the baffled and frustrated support guy sought advice from a senior supervisor who told him that this was a common problem
with XPS M1330 motherboards made on the same date as mine. SO WHY THE HELL DON'T
**ALL** THE SUPPORT PEOPLE KNOW THIS!? WHY IS IT SOME BIG FRIGGIN' SECRET? They could have saved me and
their employees hours and hours on the phone just by sharing this information with all their support people.
Those were lost hours that I didn't spend with my family or working on my books. It was time flushed down the toilet for no reason except Dell's ineptitude and disorganization.
I was furious. It was at that moment that they lost me, a loyal customer for ten years, someone who has bought four desktops and six laptops from them (for myself and my family).
I demanded that they replace my computer. They said they couldn't do that, but that they would send a tech to my house to replace the motherboard and hard-drive on the one that I have …and the back panel with the missing stickers.
The tech came over today and spent a few hours installing my new motherboard and hard-drive…but they gave him the wrong back panel, so he has to come back tomorrow. So that's two days I have to sit around the house waiting for the tech and being here while he works. More lost time. More lost productivity. All because Dell doesn't know how to make computers or support their products any more.
I won't be spending another moment in Dell Hell.