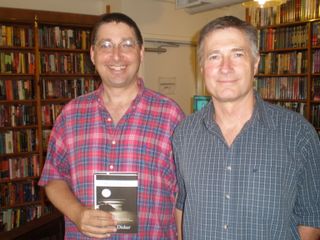 I'm sure glad I recuperated in time to meet author Garry Disher today.  I arranged to pick him up at his hotel and take him on a quick visit to Santa Monica before his 6 p.m. signing at the Mystery Bookstore. 
When I met him at the hotel, he handed me a copy of his new book
BLOOD MOON
and said "I dedicated this to you." I smiled and opened the book, assuming that he meant that he'd signed it for me. And he had, right there on the title page:  
Lee,

This one is for you, with thanks and admiration. 

Garry Disher
I thought that was a very nice thing to say.  And then I turned the page and was stunned to see this:
For Lee Goldberg
Holy Crap! He actually
did
dedicate the book to me. I hadn't done anything to deserve such an honor. I honestly didn't know what to say, so I mumbled a thank you and then rambled on about something stupid for the next five minutes as we drove towards the beach. And then I thanked him again, properly this time, by letting him know how surprised and honored I was. 
I'm still not sure why he did such a wonderful thing for me, but I am very, very flattered.  It's the second time a book has been dedicated to me –Max Allan Collins floored me a couple of years ago by dedicating a CSI novel to me. That's two more dedications than I deserved.
We had a very nice conversation over the next two hours. I learned about his writing life and methods, his family, and some of his signing mis-adventures. I also learned something about the Australian book business  – did you know authors get additional payments from book sales to libraries to take into account the books that
aren't
 sold as a result of loaning? And there's good news for Disher fans: there's finally a new "Wyatt" novel coming in 2010. I enjoy his Inspector Hal Challis books very much, but I
love
 Wyatt, sort of the Aussie equivalent of Donald Westlake's Parker. There's even a western version of Wyatt in one of Disher's short story collections (which gave me the inspiration to do a western version of Monk, which you will see in December). 
His signing at the Mystery Bookstore went well. He was followed by Laura Lippman, who came along with her husband David Simon, creator of THE WIRE. So I finally got to meet David, who I've admired for years. It turns out that he's a fan of
SUCCESSFUL TELEVISION WRITING
, the screenwriting book that Bill Rabkin & I wrote. I told David how
much I love the "f-word" scene
from season one and use it often when I teach and he shared some anecdotes about how the scene came about.
If you're in the Bay Area, you should go see them. He's also speaking at the First Congregational Church in Berkeley that same day.
After his Westwood signing, I took him to dinner at Jerry's Deli next door and did the fanboy thing of having him sign all the books of his that I've collected over the years.  
It was a great day and I hope I can make it down to Australia some time to see Garry on his home turf.
By the way, Garry will also be speaking & signing at the
Velma Teague Library in Glendale AZ
on May 19, the Poisoned Pen in Scotsdale on May 20, at Murder By The Book on Houston on May 21, and at the B&N in Reston VA on May 22. He'll also be signing with Cara Black
at Mystery Lovers Bookshop on May 23 and at the 
Scituate Massachusetts Town Library on Tuesday, May 26. Those are just a few of the events on his national book tour…I can't seem to find the rest in one spot on the web, so check out your local independent, mystery bookstore to see if he will be coming to your area this month.