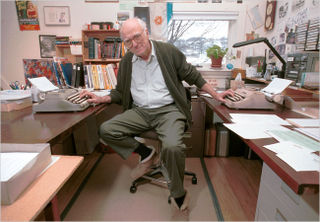 Donald Westlake not only wrote great books that entertained millions of people, he wrote books that inspired people to become authors. All you have to do is look at all the heart-felt tributes from authors in the aftermath of Westlake's death yesterday to discover that. 
My brother Tod
and
I met Westlake a few years ago at the after-party for the Los Angeles Times Book Awards
. We gathered up our courage and nervously approached him. We only meant to say hello, to tell him how much we loved his work, and then hurry along so as not to take up his time. But he engaged us in a conversation about writing, publishing and the movie business that lasted well over an hour (at one point, author
Denise Hamilton
joined us, too). He regaled us with funny, shocking, and revealing anecdotes from his long career in publishing and film. It was amazing. Many times during the conversation I met Tod's eye and I knew we were sharing the same thought:  
I can't believe we are having this conversation with Donald Westlake!
 (I found out later that Denise was thinking the same thing). Now it's impossible for us to attend the Los Angeles Times Book Festival without remembering that wonderful night…and that great writer, who also happened to be a hell of a nice guy. 
I am going to miss him.

UPDATE
:
My brother Tod shares his memories
of an excellent panel he moderated with Westlake (I'd forgotten about that) and our conversation with him at the party…though he seems to think the chat we had lasted for three hours. The truth is, it doesn't matter how long the conversation was…because for Tod and I, it won't end, the memory and its influence will stay with us for years. And that's how I will measure it.
[…]the really cool thing was that it wasn't just that
Westlake was pontificating, he was asking us stuff, too, we were
actually talking to Donald Westlake and he seemed perfectly
content, never mind that Lee and I were very nearly slobbering fools in
his presence. He was sweet, effusive and told us great stories for an
entire evening and then Lee and I sat in the car on the way home and
repeated all of the stories back to each other, as if we hadn't both
experienced them together.