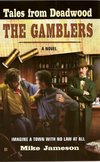 I like to think I'm reasonably productive, but all I have to do is read novelist James Reasoner's blog to be reminded that I'm a lazy-ass:
By the way, I finished my 185th novel today.
Can you believe that? 185 novels? And he can fix appliances, too. I have a hard time just changing the battery on my daughter's tape recorder. His 18oth (or 183rd, who can keep track?) book, TALES FROM DEADWOOD, comes out in May under his nom-de-western "Mike Jameson."