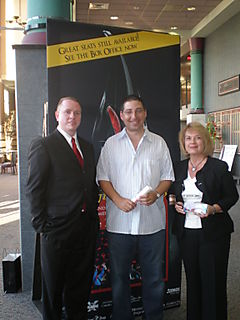 The limo picked me up at 4:30 am this morning and whisked me off to LAX for a 6 am flight to Memphis. I was only in the Memphis terminal for 30 seconds before I saw my first obese Elvis impersonator. I saw two more before I found a stool at Interstate BBQ for a quick lunch. The ribs weren't bad. They certainly beat your usual airport slop. I then flew into Evansville and drove down to Owensboro, Kentucky, where I dropped off my stuff at the hotel and hurried over to the RiverPark Center to check things out at the International Mystery Writers Festival. It's a good thing that I did, because nobody had told me that I was supposed to be the guest of honor twenty minutes later at a special ceremony on stage preceding the world premiere of Stuart Kaminsky's new Sherlock Holmes play. It's a good thing I was already wearing a wrinkled, untucked shirt and faded jeans or I might have felt uncomfortable at such a formal event.
City Commissioner Cathy Armour, on behalf of herself and Thomas Watson, the Mayor of Owensboro, presented me with the Key to the City and an engraved gavel making me an Honorary Daviess County Judge Executive. Then Assistant Secretary of State J. Allen Eskridge III, on behalf of Governor Steven Beshear's office and the Secretary of State, presented me with a scroll officially commissioning me as a Kentucky Colonel. I'm not sure what that means, but I think I'm entitled to a discount at KFCs worldwide (the pictures at the ceremony didn't turn out, so I posed with the officials out in the lobby for another one).  I was very flattered anyway.
I immediately rushed off to see if the key to the city would get me a free meal at the Moonlite BBQ Inn. It didn't, but I still gorged myself on their amazing $12.95 BBQ buffet, which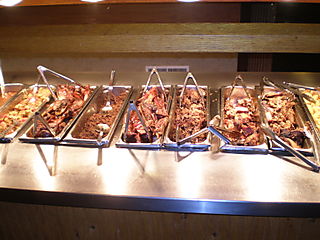 included Sliced Mutton, Chopped Mutton, Sliced Pork, Chopped Pork, Pork Spare Ribs, Chopped BBQ Beef, Sliced Ham, breaded shrimp, macaroni & cheese, and a ton of other stuff. The dessert buffet line-up included Buttermilk Pie, Apple Pie, Rhubarb Pie, Chocolate Cream Pie, Coconut Cream Pie, Cheese Cake, Pecan Pie, Chocolate Pecan Pie, Brownies, Strawberries and Cream, and more. All of it was fantastic. It's a good thing I don't live here…or I'd surely become a fat Elvis impersonator. I even managed to escape without a single stain on my white shirt.
After my feast, I hurried back to the RiverPark Center for an out-door "Writer's Reel" screening of clips from my work, which were projected on a big screen against the backdrop of the river and a huge bridge, and included a Q&A. It was great. I spent another hour-and-a-half afterwards signing books, having my picture  taken with attendees, and talking to 40 high school and college students from across the state who are participating in the Young Adult Theatre Academy here.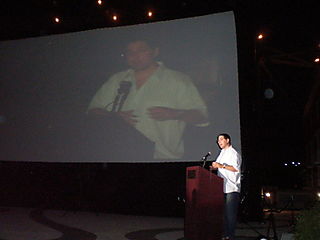 I also met the producers and cast of MAPES FOR HIRE, the play based on my book THE MAN WITH THE IRON-ON BADGE, and learned there is already talk of the play being performed later this summer on the west coast.
All in all, I had a blast…though I am absolutely exhausted now. Tomorrow I am teaching a TV writing seminar, doing some radio interviews, and seeing a performance of MAPES.