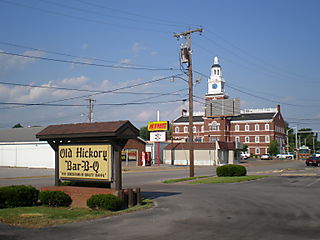 After all those honors last night, my enormous ego got a bitch-slapping at the bookstore across the street from my hotel here in Owensboro, Kentucky. I dropped in after my power breakfast at Denny's to sign stock. I brought the ten or twelve copies of my books up to the front register, introduced myself as the author, and offered to sign them.
"You ain't doing nothing to those books until you buy'em," the woman said.
"You don't understand," I said. "I'm the author. I 'd like to sign them for you."
"Nobody is gonna buy a book that you've scribbled all over. They like'em new"
"I'm not going to scribble on it," I said. "I want to autograph it. People like that."
"Not here they don't," she said. "Your name is already on the cover of the book, you don't need to write it on there, too."
I was still trying to convince her that what I wanted to do added value  to the books when a couple walked up and recognized me. They were at the festivities last night and their son has a part in Stuart Kaminsky's play. They asked the woman if she knew who I was.
"Yeah, some guy who wants to write in the books without buying them," she said, shaking her head like I was some crazy person who reeked of his own urine.
The couple bought all the books I was holding and had me autograph them for various members of their family, so it all worked out. I got to sign the books…but only after the couple agreed to buy them first.
I told author Bob Levinson the story (he's here, too) and he said he was going to stop in the store and ask the lady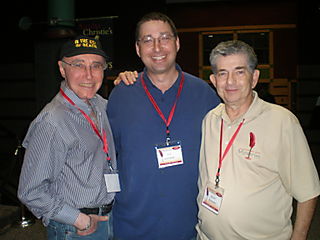 if they had any signed books by Lee Goldberg "because they are worth a fortune." (That's a picture  of Bob, me and Stuart Kaminsky. I have never seen a picture of Bob where he isn't standing to one side with his right hand in his pocket).
After that, I had a book-signing at the RiverPark Center. I only signed half a dozen books but I really enjoyed talking to the folks who stopped by. They were so nice, and a real pleasure to meet, that it was time well spent. I then grabbed a quick lunch at a nearby cafe that served BBQ Pork on Corn Pancakes. It was every bit as disgusting as it sounds.
I returned to the center to do an interview with the local newspaper and to teach a class on TV writing to two dozen people of all ages. I snuck out again for an early dinner at the Old Hickory BBQ, which was pretty darn tasty, but no comparison to the Moonlite BBQ, where I ravaged the buffet last night. Before heading back, I stopped by a used book store that sold books for half the cover price — I found two westerns, one was originally priced at $2 the other at 35 cents. The guy charged me $4.00. I said that seemed a little steep.
"We charge half the cover price," he said.
"So that should be $1.17," I said, pointing out the cover prices.
He glared at me, rung up the books again, and I gave him $1.25. I told him he could keep the change. I can be a pretty generous guy when I want to be.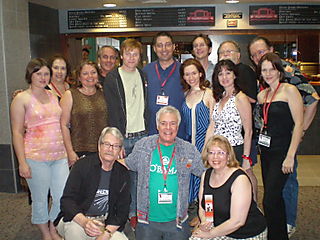 I got back to the RiverPark Center just in time to see an early evening performance of my play, MAPES FOR HIRE by the legendary Firesign Theatre. It was quite a thrill for me. It's the first thing I've ever written that's been performed on a stage in front of an audience. I enjoyed it quite a bit (that's a picture of me with the cast and director David Ossman, who is in the front row on the left). It was a full house, so that was great, too. The play was performed as a "live radio" production with sound effects, music, etc.  I wanted to close my eyes and "listen" to it, but I was afraid the cast would see me and think I was sleeping through my own show. I'm going to see it again on Sunday and close my eyes for a bit this time.
There are plans afoot to distribute the play to radio stations nationwide. If that happens, I'll let you know where and when you can hear it.
Tomorrow I have a live morning radio interview to do at 7 am — 5 am L.A. time — and then it's back to the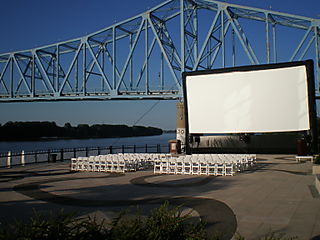 RiverPark Center to do another signing, attend some of the other plays, and then host a free, outdoor screening of my movie FAST TRACK: NO LIMITS on the riverfront patio under the stars, followed by a Q&A reception in the theatre. I am really looking forward to seeing how an audience reacts to the movie. (That's the out door screening space in daylight. The photo doesn't do the setting justice…at night it's wonderful, especially when it's full of people, sitting and standing).
I am having such a good time here. I just wish my family — currently jetting to France for a three week visit  with the in-laws– was here to enjoy it with me.