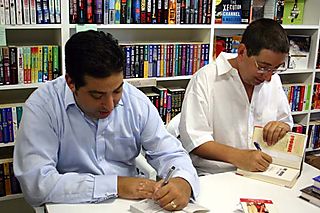 The front page of this Sunday's Los Angeles Times Calendar section features a big essay by my brother Tod discussing his experience writing BURN NOTICE: THE FIX and his research into the business of tie-in writing. I was approached to write the novels, but I declined and recommended Tod, who I knew was perfect for the job:
My brother was right: I was the perfect person. The only problem was my
advanced sense of artistic self. I had long, twisting conversations
with my agent, my wife and the kid who makes my sandwiches at Quiznos
about the literary equity I'd accrued, about how writing a tie-in might
somehow sully my career and other topics concerning my navel. My agent
told me to take a deep breath, get lucid and call her back after I did
some research…
So he did. Read his very funny article and find out what he learned.
UPDATE 8-25-2008: Tod's article got a surprisingly unsnarky mention on GAWKER, some love on TV Squad and some attention from Publisher's Weekly's Book Maven.
UPDATE 8-26-2008: TV Squad also gave Tod's book a rave review.