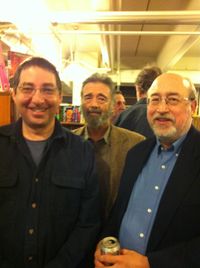 Tonight, the Mystery Bookstore had their farewell party. It was a bittersweet event. It was great to see so many mystery writers and fans in one room…but sad to see a legendary, independent bookstore close down.
The owners and employees, in their good-byes, observed that they've never met a nicer, more supportive group of people than mystery writers and what a pleasure it was just having the chance to get to know them all.
They're right. As I was looking at all those faces, and talking to all those writers, I was struck by what an incredibly friendly, warm, and out-going group they are…and how much I like them.
Unlike TV, where there is a real class system…you don't see showrunners hanging out with staff writers and treating them as equals… that isn't the case at all among mystery novelists.  Everyone mixes together. The superstars like Michael Connelly and Robert Crais are as friendly, approachable, and supportive as the least-known mid-list writer. They don't just hang out with other writers in the bestseller list. Everyone treats one another with mutual respect. Sure, there are a few in the biz who don't, but those are the exceptions. 
The Mystery Bookstore was like our home, the place where all of us could get together several times a year, like a family gathering for the holidays, and talk shop and catch up with one another. Losing the store is like losing our home. I wonder now how often we'll all get together under one roof now that we've lost the store…my fear is that it will be hardly ever.
The loss of independent bookstores, which are really so much more than just places that sell books, is one of the real, and painful, downsides of the success of the Kindle.
(Pictured: Lee Goldberg, Dick Lochte, Thomas Perry)