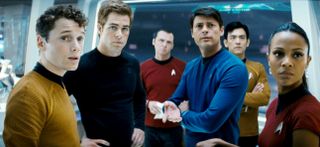 Not only is the new STAR TREK a brilliant and exhilirating re-boot of the franchise, it could serve as a text book for writers on how to update a beloved media property. JJ Abrams and his writers manage to pay affectionate and respectful homage to the original series and all of its spin-offs…while at the same time cleverly and elegantly freeing themselves from all that has come before. 
Like CASINO ROYALE — which successfully rebooted "James Bond," another beloved, enduring franchise — the film is both comfortingly familiar and delightfully surprising. And like in CASINO ROYALE, you won't hear the franchise's iconic theme until the end, when the movie and its characters have earned it.  The one miss-step in the movie is Karl Urban as Dr. McCoy. He is the only actor in the cast who seems to be attempting an impersonation of the original performer in his part…and he does it badly. But that's a minor quibble. This is a terrific movie. 
I am already looking forward to the sequel.