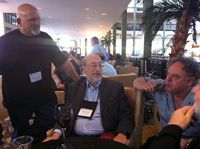 For me, Left Coast Crime in Sacramento this past weekend was more of a craft and business conference, very friendly, low-key, and collegial (but very well attended, btw. It was packed). I only went to one panel besides the three that I was on — I spent most of my time in the lobby, bar, and area restaurants talking shop with other authors. 
We talked about craft — how we do what we do — and I was surprised by how many of my colleagues aren't outlining any more (but not surprised by how often they end up having to abandon books mid-way through or do page-one rewrites once they are done with their first drafts).  It was also interesting learning the different ways they approach story, character, and revealing clues.
We talked about how publishing contracts are changing, how difficult publishers are making it now for authors to get their "out of print" books back, and how the book tour, even on a small scale, is becoming a thing of the past.
And, of course, there were lots of discussions long into the night about the massive changes in the publishing industry,the rise of ebooks, and the influence of Amazon & the Kindle on every aspect of the business. Many authors were very curious about my self-pubishing experience (in light of this USA Today article), how the monthly DEAD MAN series on Amazon works, and what it was being published by Amazon's Thomas & Mercer imprint with KING CITY. There was lots of discussion about the pros and cons of self-publishing, about the merits and drawbacks of exclusivity with KDP Select (Amazon), and the potential and pitfalls of a new exclusivity deal quietly being pitched to some authors by Barnes & Noble.  Some of the folks I chatted with included Denise Hamilton, Thomas Perry, Boyd Morrison, John Rector, Cara Black, Robert Ward, Gar Anthony Haywood, Parnell Hall, D.P. Lyle, Craig Faustus Buck, Jan Burke, William Kent Krueger, Christine Goff, Dick Lochte, Robin Burcell, Janet Dawson, Twist Phelan, Johnny Shaw, Andrew Petersen, Naomi Hirahara,  Bill Fitzhugh, and Bruce De Silva, to name just a few.
The upshot of it all, at least from where I was sitting, is that authors see the ebook revolution as scary, exciting, and confusing…but ultimately empowering them in a way they have never been before. The authors I talked to, new and established alike, are radically rethinking many of their long-held beliefs about publishing, what it means to be published, and how they are measuring their own success. It's no longer a foregone conclusion that landing a book contract, even with a big 6 publisher, is necessarily the best move for many authors, particularly those in the mid-list, even if they are still enjoying success in print. Authors who never gave much thought before to the business side of publishing are now thinking about it a lot…and taking a longer view of rights, opportunities they may be signing away for an advance.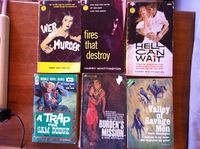 It was surprising to me to hear some of the disinformation that publishers are spreading. One author told me that she'd heard from her editor that Barry Eisler's Amazon experience turned out out be a huge disaster, that he regretted not taking St. Martin's $500,000 two-book deal, and that authors who'd once "sipped the Amazon Kool-Aid" were rushing back to legacy publishers in droves. That,  of course, couldn't be further from the truth but does illustrate just how terrified and desperate some editors in New York are now that they're realizing that they aren't the only game in town anymore…and that authors are becoming far more business savvy and many are flourishing without them. Publishers don't like seeing books that they rejected, or authors they dropped, or books they once published but fell out of print, now charging up the ebook bestseller lists.  
I also met many newly published authors and it was fascinating to hear their take on the business. And, of course, and I chatted with many readers, and I enjoyed getting to know them.
The most surprising thingof all is that I only bought six books… all vintage Harry Whittington paperbacks, snagged at $3-apiece.
All in all, it was a terrific conference.  
(pictured Craig Faustus Buck, Thomas Perry, DP Lyle)