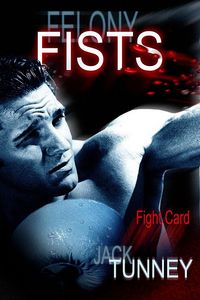 Bill Rabkin and I aren't the only ones who had the idea of reviving the "men's action adventure series" on the Kindle. The incredibly versatile Mel Odom has teamed up with several of my good friends to launch not one, but two original ebook series… the western Rancho Diablo (with James Reasoner and Bill Crider, all writing under the pseudonym Colby Jackson) and now  Fight Card (with Paul Bishop, both writing under the pseudonym Jack Tunney).  
The series is inspired by the "fight pulps" of the 30s and 40s, which are totally unknown to me and, I am guessing, most readers out there. And that's a good thing, because Fight Card doesn't handily fit into any particular existing genre, with the possible exception of "damn good fun," which makes it unlike anything else out there for $2.99
Here's how Paul Bishop describes Felony Fists, the first book in the series:
Los Angeles 1954

Patrick "Felony" Flynn has been fighting all his life. Learning the "sweet science" from Father Tim the fighting priest at St. Vincent's, the Chicago orphanage where Pat and his older brother Mickey were raised, Pat has battled his way around the world – first with the Navy and now with the Los Angeles Police Department.

Legendary LAPD chief William Parker is on a rampage to clean up both the department and the city. His elite crew of detectives known as The Hat Squad is his blunt instrument – dedicated, honest, and fearless. Promotion from patrol to detective is Pat's goal, but he also yearns to be one of the elite.

And his fists are going to give him the chance.

Gangster Mickey Cohen runs LA's rackets, and murderous heavyweight Solomon King is Cohen's key to taking over the fight game. Chief Parker wants wants Patrick "Felony" Flynn to stop him – a tall order for middleweight ship's champion with no professional record.

Leading with his chin, and with his partner, LA's first black detective Tombstone Jones, covering his back, Patrick Flynn and his Felony Fists are about to fight for his future, the future of the department, and the future of Los Angeles. 
How can you possibly resist that? I know I can't. The second book in the series, The Cutman, is also available.  
(My one piece of unsolicited advice for Mel and Paul is to rethink the covers…the series title is buried in tiny type under an armpit and is totally unreadable in thumbnail, which is how most ebook buyers are going to encounter it.)