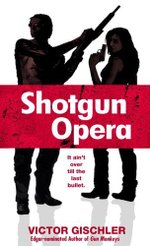 The Crime Fiction Dossier has given a rave to my friend Victor Gischler's new book.
"Gischler's best book since Gun Monkeys
is a sinfully-delicious orgy of violence, thrills and dark humor.
Nobody does comic noir like this guy. Nobody." -Crime Fiction Dossier
I'm looking forward to reading it. And if you haven't read GUN MONKEYS yet, you are really missing out.