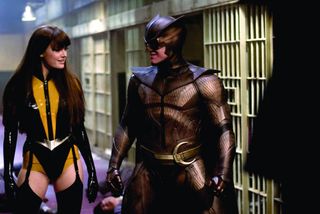 I've been approached to adapt a superhero comicbook so I've been catching up on a lot of superhero movies lately. I went to see a noon show of WATCHMEN this week and I was the only person in the theatre for the entire 27 1/2 hour running time. That should have told me something. 
I've never read the graphic novel, so I came into this cold, without any expectations or preconceptions. Bottom line: I thought it was a bloated, dreary, cliche-ridden, self-important mess. The only thing I enjoyed was the main title sequence. I hated everything else about it.
The truth is, I have grown weary of these dark, dismal, and yet ultimately simplistic superhero movies that substitute CGI-laden, over-the-top set-pieces for character and ingenuity. IRON MAN is my favorite of the bunch lately because at least it had a sense of humor and an unpredictable central character who wasn't wallowing in self-pity all the time. THE DARK KNIGHT was energized by Heath Ledger's brilliant performance as The Joker.
The only remotely interesting character in WATCHMEN was The Comedian, but, sadly, the movie wasn't really about him. It was about an all-too-obvious, supercilious James Bond bad guy and a glowing nude-guy with delusions of God-hood. Yawn. There wasn't a single character the audience could relate to…and the only "regular" people were either psychotic killers or innocent victims. It's hard to give a damn about a bunch of one-dimensional characters in silly costumes. And I thought the violence was gory simply for the sake of being gory…it added nothing to the movie. If anything, it detracted from it. The sex scenes were so clunky and awkward it was as if the actors, and the director, had never actually had sex before…but had simply read about it. The trailer for UP was more erotic.
WATCHMEN movie was preceded by a trailer for WOLVERINE, which also looks like another $150 million montage of CGI stunts (though it seems more entertaining than WATCHMEN). How many variations of superheroes tossing cars at each other can Hollywood churn out before the audience grows tired of it?
One of these days it would be nice to see just one superhero movie that doesn't revolve around morose people in ridiculous costumes tossing cars at one another and bemoaning their emotional isolation from an unappreciative populace.