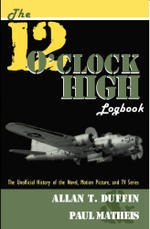 THE 12 O'CLOCK HIGH LOGBOOK by Allan Duffin and Paul Matheis is an amazingly detailed analysis of every version of 12 O'CLOCK HIGH (what a great idea for a book).
Whether or not you are a fan of the original 12 O'CLOCK HIGH novel, movie or the TV series,
this is a fascinating and informative look at how a single "property"
was exploited across three very different mediums. Just the section on the
TV series alone is worth the purchase price for the informative, inside glimpse at how the
show was developed and produced, from pilot to cancellation. This book is a must-read for TV geeks like me… as well as any student of television.