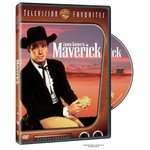 MAVERICK was an incredible TV series that was way, way ahead of its
time. This DVD sampler is nice… but it's no substitute for a
feature-packed DVD boxed set produced by someone like Paul Brownstein
(who did the amazing GUNSMOKE, WILD WILD WEST and DICK VAN DYKE boxed sets).
But if Warner Brothers ever wants to do another MAVERICK sampler, let's see one that
includes the "Shady Deal at Sunny Acres" episode from the original
MAVERICK, the unsold ABC pilot THE NEW MAVERICK, the pilot from the CBS
series YOUNG MAVERICK, and the first and last episodes of the NBC
series BRET MAVERICK. Seeing "Shady Deal" and the last episode of BRET
MAVERICK (in which Jack Kelly makes a surprise appearance as Bart)
would make nice bookends to the entire MAVERICK saga.