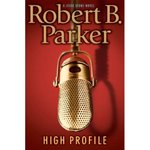 I read HIGH PROFILE, Robert B. Parker's new Jesse Stone novel, today in about three hours. The book has got to be maybe 50,000 words, tops. No wonder he can write four books a year. It barely qualifies, word count wise, as a novel and they've got guts asking $25 for it.
Even so, there's a rhythm to Parker's writing that I enjoy, even in his bad books. This wasn't one of the bad ones but it wasn't one of the good ones, either. The plotting was weak, the description sparse, and the dialog less punchy that usual. But at least Jesse Stone was more or less the character he once was before Parker emasculated him in BLUE SCREEN, the last Sunny Randall novel that is, perhaps, the author's worst book ever.
I really enjoyed the last three standalones Parker wrote — GUNMAN'S RHAPSODY, DOUBLE PLAY and APPALOOSA — but his last few "series" novels have been disappointments. The last good one was STONE COLD, a Jesse Stone novel. I wonder if he wouldn't do himself, his readers, and his regular characters a big favor by resting his various series for a while (and forgetting about Sunny Randall altogether) and doing a few more standalones.