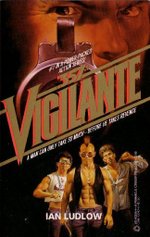 I just stumbled on this old Las Vegas Mercury column my brother Tod wrote about the time I dragged him and my sister Linda to a science fiction convention in a horribly misguided attempt to sell copies of my book .357 VIGILANTE. A lot of his column is, um, fictionalized…but it doesn't matter because it's very funny:
"It takes place in a futuristic L.A.," I said to the man in the "V" uniform who'd stopped to handle the book.

"Yeah? Are there aliens?"

"Only illegal ones," I said. When I was 14, I thought this was a pretty funny thing to say.

"I only read books with real aliens in them," he said, setting the book down.

"You're an idiot," my sister said from behind her magazine. It was the first time Linda had spoken for at least an hour.

"Pardon me?" the man said.

"You said you only read books with `real aliens' in them and I said that you're an idiot," Linda said, still not looking up.

"You're very rude," he said.

"'V' was canceled," Linda said, "just FYI."
He forgot to mention in the column that both he and Linda contracted chicken pox at the convention. I came out unscathed. My brother and sister, sadly, were emotionally scarred for life.