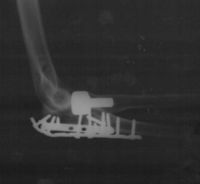 Secretary of State Hillary Clinton tripped and broke her elbow earlier this week. Today she had surgery and is facing weeks of physical therapy. Fox News reports:
"The most common fracture you get from a standing-height fall will either be an olecranon fracture or a radial head fracture," Alberta, who specializes in shoulder and elbow surgery, told FOXNews.com. "If she landed on her elbow and fell back on the point of her elbow, she most likely fractured her olecrenon, which is the bony point of your elbow. If she fell with her hand stretched out to catch the fall, then it may be a radial head fracture. […]"

In general, elbow surgery can last anywhere from 45 minutes to a couple of hours.

"There'll be an incision depending on where the fracture is, and we'll use anything from a plate and screws, all the way up to replacement of the joint to repair the injury," Alberta said.

As far as recovery, Clinton is facing anywhere from six weeks to three months of physical therapy.
God, does that bring back some bad memories. Five years ago I broke both of my elbows, my right one so severely that I was in surgery for six hours while they put it back together with three plates, a dozen screws and a titanium radial head (that's my x-ray in the picture. You can click on it for a larger image). I wasn't Secretary of State, running all over the globe, but I was writing & producing a weekly TV series and a few weeks away from the deadline on a novel when the accident happened.  
I was told that implants would remain in my arm for the rest of my life. But after six months of physical therapy, my arm was still locked at a 90 degree angle… so they took all of the implants out again…and I had another six months of therapy. The surgery was a success, but I was left with only about 40% mobility in the arm, and some pain and numbness where my elbow used to be (not to mention a big scar), so not a day goes by when I am not reminded of the accident.
Hillary, I feel your pain.