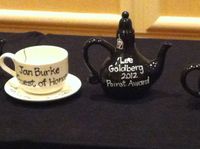 I just returned from a week away, a few days in Bethesda to attend Malice Domestic, and then a quick side trip down to Florida on some business (which I hope to be able to tell you about soon, but top secret for now).
I had an absolutely wonderful time at Malice, where I met some great people and received the Poirot Award which, as you can see from the photo, I guess I am supposed to use to serve tea to Jan Burke, their Guest of Honor. I finally met online friends Debbi Mack and Bill Peschel face-to-face and got to catch up with folks like Penguin/Putnam editors Sandra Harding and Ellen Edwards, and authors like Charlaine Harris (pictured with me on the right), Elaine Viets, Hank Phillippe Ryan, Parnell Hall, Dana Cameron, Elizabeth Peters, Christina York, Sharan Newman, Simon Brett, Chris Grabenstein, and Rhys Bowen.
Rhys was supposed to interview me on stage but tripped and cracked her hip on the first night. Some people will do anything to get out of being on stage with me.  I am pleased to report that Rhys was in her usual good humor despite her injury and, although she had to return home right away, she is recuperating well. She also won an Agatha Award, which I hope too some of the sting out of her injury.  Hank Phillippe Ryan took over for Rhys as my interrogator and we had a grand time.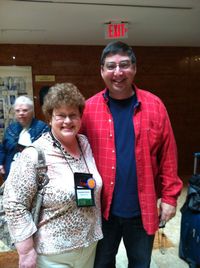 One of the highlights of Malice for me was participating with Simon Brett, Jan Burke, and Dana Cameron on Verena Rose's panel about the unusual fan mail we'd received. Simon and Jan read some letters that had the audience, and the panel, roaring with laughter (both pieces of mail, by the way, involved sexual fantasies, a very uncozy subject for Malice!).
On another panel I was on, a reader stood up and said to Halle Ephron: "Your book put me to sleep but I woke up to finish it."
Now there's a great compliment 🙂
And only at Malice would I have overheard snippets like this from authors at other tables as I ate at the Daily Grill on the first night: 
"Shes a great cover artist for animals but she is terrible with food." 
"I can use my own name when I write books about cats or cakes, but not for witchcraft."
"I have three names," another author added. "But I'm thinking of using a fourth for my pottery series."
And I heard another author lamenting that her vintage clothing ghost mystery came out at the same time as another author's vintage clothing ghost mystery, thus undercutting her sales. I have to admit that one surprised me. I  would have thought you could safely write a vintage clothing ghost mystery without worrying about another one being out there…or being published the same month as yours!
I took a few hours off to be a tourist, visiting the usual DC landmarks and the Spy Museum, and bought a few books at Politics and Prose, including one signed by Bill Clinton which, to be honest, I got just for the signature.  
My trip to Florida was great, too. While I did work in Orlando on SeaQuest, I was mostly on set so I still feel like I've never actually spent any time in Florida. And even that was way back in 1995, so it was nice to have a chance to reacquaint myself with the the state. I was able to spend lots of time with an old friend and do a little sight-seeing, too. I loved the beaches and the weather…and was stunned by the opulence and size of the waterfront homes that I saw. There's some astonishing wealth down there.  
Now that I am back, I am hard at work on my last MONK book, the DEAD MAN series, and getting geared up for the promotion of KING CITY, which launches in a few weeks.