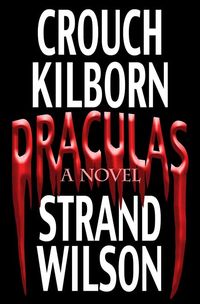 Joe Konrath, F. Paul Wilson, Blake Crouch and Jeff Strand have collaborated on DRACULAS, an original novel for the Kindle. It's yet another intriguing Konrath e-book experiment. He wrote about it all on the Huffington Post. He said, in part:
"Draculas" will be exclusive on Kindle for a year, as a favor to Amazon since they've been so helpful. But those with other brands of ereaders will be able to buy "Draculas" from Amazon and convert it to the format of their choice with free ebook software like Calibre or Stanza. We have instructions for doing this on our website, www.draculasthebook.com. We also plan on doing a print release later in the year, using Amazon's CreateSpace.

Since professionalism is essential, we hired a cover artist and an ebook formatter. A publisher providing these services takes 52.5% of an ebook's cover price, and the retailer gets 30% through the agency model. That leaves only 17.5% for the author. By absorbing these sunk costs ourselves, we're able to earn the full 70% royalties and not have to share them with anyone. Though we're splitting the profits four ways, we're each earning only slightly less per copy sold (51 cents each) than we would on one of our own paperback books (64 cents each), and still only charging the reader $2.99.
The book is 80,000 words and also contains 80,000 words of extras, like the 700 emails the authors sent back-and-forth while writing this book in just eight weeks. If the book is a success, which I suspect it will be, it could lead even more published authors to try self-publishing an original ebook…even as they continue to write novels for major publishers. Judging by the conversations I had at Bouchercon, lots of writers are already considering this, seeing it not as an all-or-nothing alternative, but as an additional revenue stream. I'm one of them. But more on that later…