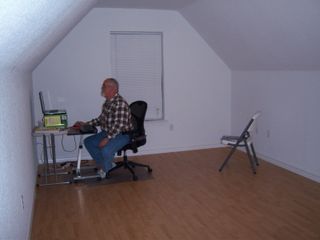 James Reasoner is one of the most prolific authors that I know…he's had hundreds of books published, mostly in the western genre. And yet very few people know who he is. Why? Because the majority of those books don't have his name on them (they were written under "house names" owned by the publisher or a literary estate).
For a lot of authors, the most important thing to them is seeing their name on the cover. But for James (pictured on the left hard at work), the most important thing is to make a living writing, something he loves to do and is very good at:
At one point in my career, I had published more than eighty books, only one of which (TEXAS WIND) had my name on it. People used to ask me how I could write a book knowing that my name wouldn't be on it, and my stock answer was "I don't care if my name is on the book as long as it's on the check."
Of course, that's not exactly true now and wasn't then. I'd love to be able to just write what I want, sell it, and have my name on it. But being able to keep writing, period, is more important to me.
It's a refreshing…and dare I say it, professional…attitude that you don't find much today. So many aspiring writers rush to self-publishing companies simply because they want the experience of seeing their name on a book cover, even if they have to spend thousands of dollars to do it. But James is different. He's a real writer and a true professional. I wish there were more like him:
There are dozens of books out there now with my name on them, and I'm thankful for
each and every one of them. I hope there'll be more in the future. But as long as I can keep writing, one way or the other, I'll be okay. That's just me. I don't really think that's the only way to carve out a career – I'm sure every author has a different approach – but I feel like I've played the cards that were dealt to me and won more than I've lost.
I know how he feels. I think I may have told this story here before, but…a couple of years ago, it was down to Bill Rabkin & me against one other candidate for the co-exec producer job on a major hit series. The showrunner couldn't choose between the us and the other guy. So we met with the studio chief, who would be deciding who ultimately got the job. The interview was going great, and I was feeling real good about our chances, until the studio chief said:
"I only have on reservation about you two. Why don't you have sexier credits?"

"What do you mean?" I asked.

"Why haven't you ever worked on Law and Order or CSI?"

"Because we never had the opportunity, either because we were working on something else when they had openings or they weren't interested in hiring us when we were available," I said. "In the course of our career, we didn't have the luxury of picking and choosing our jobs as much as we would have liked. We have families and had to make a living so we took what came along and what interested us. But if you like us, our writing, our producing philosophy, and the way we tell stories, what difference does it make whether we worked on CSI or Diagnosis Murder?"
We might also have mentioned that our friend Terry Winter was working on SISTER SISTER when he got hired on the SOPRANOS, where he won Emmys and WGA Awards. His previous credits include THE NEW ADVENTURES OF FLIPPER and XENA. Not exactly the sexiest credits.
Well, it goes without saying that we didn't get the job. They hired someone with sexier credits. And fired him thirteen episodes later.
I like seeing my name in print and on the TV screen, but I consider myself first and foremost a working, professional writer. I write because I love it, but I also write to earn a living. Sometimes my creative or personal desires have to take a backseat to simply having a job. I don't think that Terry or I wrote for FLIPPER because we had a burning need to tells stories about a clever dolphin. We did it because writing is what we do and how we pay our bills.
UPDATE 12-20-2008: Bill Crider reviews James Reasoner's latest LONGARM novel (written under the house name "Tabor Evans.") And here's a Saddlebums review of one of Reasoner's 2007 LONGARM tales and an interview they did with him.