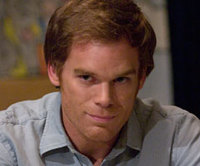 I've been so busy over the last few months that I've missed a lot of TV crime shows. Today I indulged myself and caught up on the first four episodes of DEXTER. Wow. What a great series. It's wonderfully directed, well-written, and pitch-perfect in tone.
That's not to say there aren't problems (the mean, overly political lieutenant, the angry black cop, and the Asian lab guy are drawn way too broadly, past cliche and into caricature), but the pluses far outweigh the minuses. Michael Hall is amazing in the role, walking a very delicate balance and pulling it off every time.
I've read DARKLY DREAMING DEXTER, the book that inspired the series, and I admire showrunner Clyde Phillips' shrewd decision to stretch the novel's central plot over the entire first season while still doing nearly standalone episodes. You'll notice I said nearly. Although there's a strong, narrative arc, the individual episodes are still satisfying on their own, while still largely open-ended story-wise. (The series is very loyal to the book and yet its one of the rare cases in which the TV series is far better than the original work that inspired it).
Although DEXTER is on Showtime, it could easily be mistaken for a USA Network series..if it wasn't so bloody and dark. It's got the quirky, socially-awkward, single-lead detective with psychological problems and a keen eye for detail (MONK, PSYCH) who had a strange childhood (MONK, PSYCH) that strongly shaped who he is…memories of which are revealed in flashbacks with his father (PSYCH). It's also got a sunny, beachy locale (MONK, PSYCH, BURN NOTICE).
I hope the rest of the episodes are as great as the first four. If the first season ends the way the book did, I'll be curious to see if they can find their creative footing again in the second season.