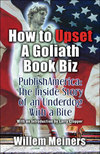 PublishAmerica CEO Willem Meiners has written a book entitled PUBLISH AMERICA: THE INSIDE STORY OF AN UNDERDOG WITH A BITE, which he describes as telling the story of "the most captivating pioneers in today's traditional
publishing industry and their victorious legions of authors."
The book also promises to reveal "everything you always wanted to know about book
publishing, and about its real heroes: PublishAmerica's authors" and why "PublishAmerica's success was inevitable and
unstoppable." That can be summed up in name. Anne Frank.
"I was born just blocks from where Anne Frank hid, where she was betrayed and
arrested, and from where she was deported to die in a Nazi death camp. She was
not allowed to breathe, to speak, to write. When you read her diary and you see
her describe the houses and the streets that were your own childhood's setting,
when you learn from your parents that this was in fact the real girl next door,
believe me, it gets your attention. It makes you want to fight for equal rights
for everyone."
Oh, so that's what PublishAmerica is doing. That's why Willem's got Michealangelo's David wrapped in the American flag on his book cover. They're fighting for freedom. Signing a publishing contract with them is like signing the Declaration of Independance. And in a true show of equality, Willem has given himself a book cover every bit as hideous, cheapo and amateurish as those he gives his customers, er, authors.
Of course, you won't find this book, or any PA book, in your local book store. But that is all part of Willem's heartfelt, patriotic, unbelievably noble plan for revolutionizing publishing in the spirit of Anne Frank.
How much of a help is a bookstore anyway these days? There are roughly fifteen
thousand such stores from sea to shining sea, one bookstore for every 20,000
Americans. But only 6,000 of them have visited a bookstore in the past five
years, and 14,000 have not. Only 30 percent of all people go to a bookstore now
and then; 70 percent of all Americans can not remember the last time they did
Yeah, who needs bookstores? Or 7-11s? Or airports? Or any other place books are sold besides PA's website? I'm sure all those PA authors would spit at B&N or Borders for even asking to stock their books. Anne Frank would. You know she would. Traditional Publishers and retail bookstores are no different than Nazis.
History has always known elites, and it has always dealt with them in only one
way: they disappeared, and always under the pressure of irresistable change.
Historically, all elites have been replaced by majority rule, and where this has
not happened yet, it will over time, inevitably. As soon as an excluded majority
senses that empowerment is within reach, they will grab it. Authors who have
always been refused and denied the opportunity to see their book in print unless
they paid for it now have an equal opportunity to be in the exact same league as
the elite, and they will, by their sheer number, bring an end to the elite's
existence.
PublishAmerica is going to free us all. For liberty. For equality. For Anne.
UPDATE 6-10-05: Pod-dy Mouth reports that Willem has sent a mailing to all his PA "authors" offering them a special discount on his book….hand-in-hand with a solicitation to buy more copies of their own books.
Wow. What a great
deal. Nothing like asking you to buy a $25 book/promo kit for the company, and
hey, while you're at it, buy some of your own books so we can make more
money!

Oh, and uh, Mr. Meiners and Mr. Clopper: if you
have a hard time selling your book, here is a great idea: make a list of 100
friends, acquaintances and family members you could market it to and submit the
list to yourselves