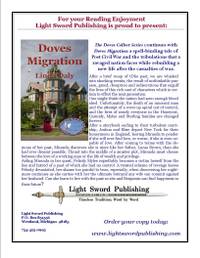 I still keep getting unwanted emails from Jennifer Crowder at Lightsword Publishing, even after I ridiculed her company's inept promotional efforts and ugly covers here… and after I asked her to please take me off their mailing list.
Today, I got not one, but two spam emails from them, one with the headline "You Don't Want to Miss Out on Reading This!!" and the other titled "News Radiating from Lightsword," both with numerous jpeg attachments of horrible book covers and badly-written press releases. I wasn't in a particularly good mood (I broke a toe running down the stairs yesterday), so I sent Jennifer a brief note I thought my finally stop the emails from coming:
Take me off your mailing list immediately. I am not interested in your slop.
I got a response back from her saying that she would remove me from her mailing list. I don't know how I will live without the childish bookcovers and the inane "news radiating from lightsword," but I shall try.