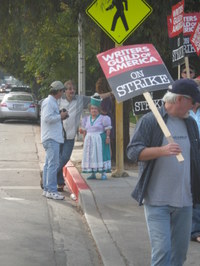 I am at NBC in Burbank this morning, nearing the end of my shift. At about 8, a guy parked across the street and came over to us. His hands were in his pockets and he looked uneasy..
He told us he was an editor and that he, and many other IATSE members, were embarrassed and outraged by the conduct of their exec director, especially by the letter that was released today. I didn't know anything about the letter…I slipped out of the house without reading the paper. He wanted us to know that the editors were with us in spirit and we thanked him.
An hour later, a van pulled up and out spilled three original munchkins, one in her costume from The Wizard of Oz. The three of them must have been in their late 80s and sang the lollipop guild song as they walked with us.
"The lollipop guild is with you," said the lollipop kid and he handed me a donut hole.
John Edwards is coming by later but I doubt that he can top that. Sent via BlackBerry by AT&T