…that's the name of a site dedicated to uniting the fans of mpreg fanfic. Some brave soul named Mr. Anonymous sent me the link. Naturally, I had to check it out. Here's what I found:
This is the official fan listing to Mpreg


What is Mpreg? it stand more Male Pregnancies. Usually due to magic, aliens, or its just normal in the fan authors world. This fan listing is to unite people who read or write Mpreg stories, whether its from a anime, book, game, tv show or whatever.
Gee, I wonder who they had to see, and what they had to do, to make this site "official."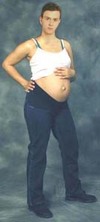 Kindly Mr. Anonymous also directed me to the Pregnant Men website, which offers one-stop shopping for mpreg fans.
Thank you for visiting Pregnant Men. This site is dedicated to everything related to the idea of men being pregnant. Whether it be stories, movies, real life news, or anything else. If it pertains to men being pregnant, you can be sure to find it here.

They even have a newsletter. I'm thinking of getting my brother Tod a subscription for Christmas. Don't tell him, though… I want it to be a surprise.