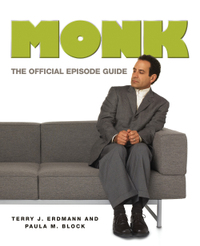 My friends Terry Erdman & Paula Block have written MONK: THE OFFICIAL EPISODE GUIDE, which comes out on June 27th, the same day as my book, MR. MONK GOES TO HAWAII. Their book is packed with interviews and inside info on the making of the first four seasons of MONK…and features an introduction by Andy Breckman and an afterward by Tony Shalhoub.
I've known Terry for over 20 years , going back to when he was a unit publicist on movie sets and I was a freelancer covering the entertainment industry for Starlog, Newsweek, American Film, and the Los Angeles Times Syndicate (to name a few). And his lovely wife Paula happens to be the licensing exec for Paramount's publishing division…so she's the studio person in charge of my DIAGNOSIS MURDER novels. Small world, huh?
Anyway, we're going to be doing a bunch of signings together in July and August for our MONK books. Watch this space for more info.