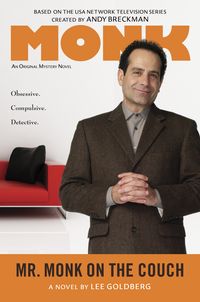 My 12th original MONK novel, MR. MONK ON THE COUCH, is out today in hardcover…and as an ebook, too. 
This is the second book set after the finale of the TV series and takes the characters in some new directions, none more so than Monk's assistant and the book's narrator, Natalie Teeger. Over the last few books, she's begun to realize that not only does she enjoy detective work, but she's actually is pretty good at it. But it hasn't been easy to prove herself when she's constantly paired up with a brilliant detective who often solves crimes on-the-spot. In this book, she finally gets the chance…and really comes into her own as a detective (which I take it to the next level in the book I'm just finishing now, MR. MONK ON PATROL). 
Like all of my MONK books, there are lots of little "standalone" mysteries that Monk solves while investigating the major, over-arching mystery of the novel. However, this time the central mystery is less of a whodunit than it is a "what the hell is going on?"
MR. MONK ON THE COUCH is also grittier than any of my previous Monk books…but nothing too extreme. It's still very much a MONK,  with lots of laughs, but also with a lot more going on and a slightly harder edge.  Plus there's even a subplot involving Monk's brother Ambrose, picking up where his story left off in MR. MONK ON THE ROAD.
All in all, there's a lot going on in MR. MONK ON THE COUCH and I hope that you enjoy it.