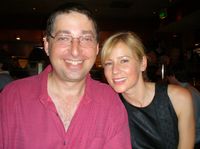 Kirkus Reviews is spotlighting the MONK books today in an interview with yours truly conducted by J. Kingston Pierce, who also runs the excellent Rap Sheet blog.  Here's a taste:
The series focused primarily on Adrian Monk, but your books are told from Natalie's first-person perspective. What affect has that had on your storytelling?

I think it humanizes Monk. It gives us a necessary distance and, at the same time, a perspective to frame what we're seeing. In a way, Natalie's eyes become the replacement for the TV screen that's was usually between us and Adrian Monk. Also, a little Monk goes a long way. You can overdo the joke and all the obsessive/compulsive stuff. By telling the stories from Natalie's point of view, we aren't with him all the time. We get some space, a breather from his shtick, and I think that's important.

It's also a conscious homage to Sherlock Holmes and Nero Wolfe, who were seen as well through the eyes of their assistants.
The interview was huge, and all the stuff that Kirkus couldn't use, Pierce has posted on his blog.  For instance,we expanded on the previous question…
JKP: You've said before that telling these stories from the first-person viewpoint of Monk's assistant, Natalie Teeger (played on screen byTraylor Howard), rather than from a third-person perspective more similar to what we saw on television, "humanizes Monk." Could you explain that further?

LG: [I]t's allowed me to add an emotional resonance to the storylines that goes beyond just Monk's eccentricities and the solving of puzzling mysteries. The underlying theme of the book (and yes, there always is one in each tale) is often reflected in whatever is happening in Natalie's life. Her personal story frames the way in which she perceives the mystery and reacts to Monk, so it's all of a piece. It's allowed me to make her a deeper, more interesting, and more realistic character. By doing that, I ground the story in what I like to think of as "a necessary reality."

Without that reality, Monk would just be a caricature and cartoon character. Natalie humanizes Monk and makes the world that the two of them live in believable to the reader. Through her, we are able to invest emotionally in the story. Without that crucial element, I believe the books would have failed.