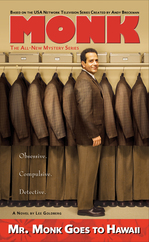 The cover of MR. MONK GOES TO HAWAII has been redesigned. The new, final version is there on your left. It's not a very Hawaiian cover, but I've always liked that shot of Monk, it says so much about his character. If you liked finding the hidden objects in Highlights For Children when you were a kid, you'll enjoy trying to find my name on the cover.
My latest Natalie Blog is now up on the USA Network site…it's actually an "out-take" from the book MR. MONK GOES TO THE FIREHOUSE that was cut during the editorial process. I missed it in the book, I think it gave you a little more insight into
who Natalie is. On the other hand, it slowed the pace of the story down
and had to go.