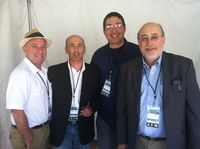 I had a great time at the Los Angeles Times Festival of Books today. It was held at USC for the first time, and that was a little disorienting…but in a good way. Most of the bookstores booths were  in the same spot, year after year, at UCLA. But at USC, I didn't know where any of them were…so wandering the campus was more fun because I "found" the bookstores as I went along.  I think I ended up visiting more booths and buying more books as a result. My haul included guidebooks for San Francisco (research for Monk) and signed copies of books by Steve Martin, Kelli Stanley, Tom Franklin, and Laura Lippman.
My general sense was that there were fewer people attending the fest at USC than there were past years at UCLA, but that might just be because the festival was more spread out and less crammed together. 
There was one definite improvement over UCLA — the author "green room" was much swankier and more comfortable. Even the food was better.
I chatted with Gary Phillips, Kelli Stanley, Denise Hamilton, Mark Haskell Smith, Aimee Bender, agent Ken Sherman, LA Times Magazine editor Nancie Clare, and lots of other authors before I got together with my fellow panelists Don Winslow, John Vorhaus and Thomas Perry for lunch.
Tom and I had a long talk about JUSTIFIED, and what makes Elmore Leonard so special, and the appeal of amiable bad guys. We also talked about the fates of the TV pilot scripts for BUTCHER'S BOY (for Fox) and JANE WHITEFIELD (for CBS). We talked about some of the books Tom abandoned before finishing…and about the new stuff he has coming.
I went all fan-boy over Don Winslow when he joined us… I think his book SAVAGES is the best book I've read so far this year. I loved it and grilled him on some of his daring creative choices.
Then it was time to head off to our panel. 
She actually didn't know how to get to our room, but luckily I did, so I ended up guiding our guide. The panel went great. Don, John, and Thomas were terrific and not only were they very funny, but they shared some very good insights into the writing process (I used some of what I learned from them at lunch during our personal conversations as the jumping off point for some of our panel discussions). Afterwards, we had good signing and headed back to the green room to eat more food. (That's John, Don, me and Tom in the picture)
After gorging ourselves, Don, Thomas and I went to Mystery Ink's booth for another signing and talk shop.
All-in-all, it was a fine day.