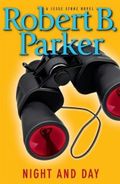 NIGHT AND DAY, the new Jesse Stone novel, is so slight, you almost expect the words to evaporate from the white pages. I noticed the white because there's so much of it. I doubt there has ever been so much white space in a book before. The story is barely a sketch with a plot so thin it's practically non-existent. There isn't even a murder in the book…or a real mystery, as such. If anything, it's more of a vignette about Jesse, because the crimes, such as they are, aren't mysterious, involving, or interesting on their own. They aren't even felonies. The story doesn't even feel long or substantial enough to qualify as a novel, so think of it as a extended short story padded with lots of re-stating of information we already know and pages of rapid-fire banter, some of it clever, most of it quite familiar and tired (especially if you've read the Spenser novels). Which all leaves enough white space on the pages to write your own novel in the margins.
It was a pleasant diversion for a couple of hours, certainly not the worst Jesse Stone book (or the worst Parker), but far from the best. It was interesting, though, to contrast the book with the new, and wholly original, Jesse Stone
movie that aired the other night
. The movie was far better than any Stone novel in the last few years. Selleck and his team have the Parker voice down and managed to craft a much more interesting plot that felt true to the spirit of the early Stone novels. Parker remarked
in a recent interview
that he doesn't do any rewriting. It shows.