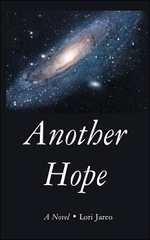 Lori Jareo, a self-published author, is selling her fanfic STAR WARS novel ANOTHER HOPE as a print-on-demand title on the Amazon and Barnes & Noble websites. Apparently, neither Amazon nor Barnes & Noble looked at the book before they listed it for sale. Jareo talks about the obvious copyright violation issues in a Q&A on her website:
Q: Having set Another Hope in an already existing universe, I find myself wondering if there was any concern on your part regarding copyrights?

No, because I wrote this book for myself. This is a self-published story and is not a commercial book. Yes, it is for sale on Amazon, but only my family, friends and acquaintances know it's there.

Q: I also wonder how far a writer is allowed to write in a world and to use characters introduced by another author?

If it's not a commercial project, I don't see any problem.
It's not a commerical project…but she's selling it on Amazon and Barnes & Noble (and offering it for sale on her website). What a moron. She even had the chutzpah to copyright her novel. She offered this disclaimer on the book:
The characters in this book are trademarks of Lucasfilm Ltd. The publisher of this book is not affiliated with Lucasfilm.
As if those two sentences would make it okay to publish and sell a STAR WARS novel without permission from Lucasfilm, the rights-holder. The stupidity of the author and her publisher (which is herself) is mind-boggling.
I'm told by sources in-the-know that LucasFilm and Ingram, one of the nation's largest book distributors (and the folks who supply B&N and Amazon) are now aware of the infringement and aren't happy about it. I don't think you'll see this fanfic listed on Amazon or Barnes & Noble for much longer. And in the wake of this embarrassing episode, I believe the major online booksellers will be seriously rethinking their system for listing P.O.D. titles…
Now, if you will excuse me, I have to get to work on my self-published sequel to THE DAVINCI CODE. I don't think Dan Brown or Simon & Schuster will mind.
UPDATE 4-21-06: Lori's ANOTHER HOPE site has been shut down. That was fast. Lucasfulm must have hit her like a nuclear bomb.
UPDATE 4-22-06: How many different ways can you call someone stupid? Check out what the blogs are saying about Lori Jareo.

Here's a sampling of some of the blog headlines: "The Stupid Is Strong With This One," "Behold: The Greatest Story of Stupidity Ever Told," "I Bet She Finds Our Lack of Faith Disturbing," "Feel The Stupid," "The World's Stupidest Human," "Soooo Amazingly Stupid," "Good Lord, How Stupid Can A Person Be?" and "Face Palm, Head Desk, and a Generous Smattering of WTF?" GalleyCat reports that she even listed her fanfic STAR WARS novel in her bio for a poetry conference!
In this case, the fanfic community and I are in total agreement.
UPDATE 4-26-06: ANOTHER HOPE is no longer listed on Amazon. It's still listed on Barnes & Noble, but with the note: "A new copy is not available from Barnes & Noble.com at this time." I have to wonder how anyone at B&N could have read the material submitted for the ANOTHER WORLD listing and not realized that it infringed on Lucasfilm's trademarks and copyrights. Here's the B&N listing:
FROM THE PUBLISHER

It is a dark time; the evil Galactic Empire rules with a titanium fist. A
small band of rebels, led by Imperial Senator Princess Leia, has stolen plans to
the Empire's weapon of ultimate destruction, the Death Star, in hopes of finding
a weakness that might allow them to neutralize the Empire's fearsome weapon.
Then the Empire's most dreaded agent, Dark Lord of the Sith Darth Vader,
captures Princess Leia and brings her aboard the Death Star itself for
interrogation.

Little does the Princess know that she has a secret ally aboard the Death
Star, who will help her bring the rebellion into a final, catastrophic encounter
with the Empire. And little does the Empire's leaders know that the Dark Lord
himself harbors a secret with explosive consequences for the galaxy…

Another Hope is Lori Jareo's first full-length novel. She has also written
technical manuals, how-to articles for the manufacturing technology sector,
software help, and blogs for Macintosh computers. Lori works full-time as a book
editor and lives with her family in Cincinnati, Ohio. She has been a Star Wars
fan since 1977.

"In
the remarkable genre of apocryphal Star Wars mythology comes Lori
Jareo's Another Hope. Mixing familiar moments from Lucas's first Star
Wars film with a mass of new story material, Jareo gives us an
alternative history of what happened on Tatooine, Alderaan and the
Death Star based more soundly on the now-complete three prequel
episodes. We get a delightful new character, Ryoo Naberrie, a gutsy
underling on the Death Star; backstage details of that space fortress;
the politics of Darth Vader's henchmen, and more insight into Vader
himself; and the story of the Organas, Princess Leia's adoptive
parents. Best of all, Biggs, Luke Skywalker's old wingman, has been
promoted from the status of 'Ensign Jones' (the ill-fated Enterprise
crewman from another mythology, who is always the fourth man on the
Away Team and who never comes back) to the glory of being a regular
hero."—
Frederick Turner, author of Genesis: An Epic Poem
UPDATE 4-27-06: Lev Grossman talks about the controversy on NPR today. He sees Jareo as an "unsung hero" of the wired universe.
UPDATE 5-4-06: Lori Jareo certainly didn't behave like someone not interested in profiting from her fanfic. Chris Meadows found a listing in a church newsletter announcing Jareo's book and how to buy it.
St. Timothy's members Kevin Walzer
and Lori Jareo both would like to announce the publication of their
new books. Kevin's book is called Austere Offices (ISBN: 1933456043)
and is a book of poems about corporate life. Lori's book is called Another
Hope (ISBN: 1933456027) and her book is a Star Wars-themed science fiction
novel. Both are available on Amazon.com. Both Kevin and Lori will be reading
from their new books at Over Coffee on December 3. Kevin begins reading
at 7:00 p.m. and Lori follows at 7:30 p.m. Over Coffee is located at the
corner of Clough and Eight Mile. There is a nice children's area and kids
are welcome.