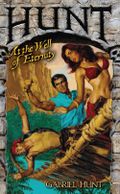 My friend James Reasoner, one of the most prolific authors on earth, just got a starred review from Publishers Weekly for his HUNT AT THE WELL OF ETERNITY, the first in a new series of pulp adventures from Hard Case Crime. Each book is written by a different author under the "Gabriel Hunt" pen name, but it's James who kicks off the series with a bang:
James Reasoner (the Civil War Battle series) is the first to take the shared Hunt pen name and launch an adventure series that raises the action bar to nosebleed heights. After a mysterious beauty delivers a bloodstained Confederate flag and a whiskey bottle full of water to the Hunt brothers at a fund-raising reception, millionaire adventurer Gabriel Hunt and beautiful, gun-toting museum director Dr. Cierra Almanzar follow clues and an ambiguous map from Manhattan to Guatemala, only certain they're on the right path when somebody's shooting at them. Hunt, armed only with his fists, bullwhips, a Colt .45 double-action Peacemaker and a vintage Civil War muzzle loader, is often outnumbered but never outwitted. Pulp adventure fans will be thrilled to see the genre so smashingly resurrected.
Congratulations James! It's great to see him getting the recognition he so richly deserves.