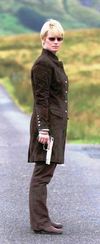 Yesterday, I kicked off a schedule of promotional events (that stretches into March 2006) by signing at The Mystery Book Store and Mysteries to Die For with my friend Zoe Sharp, who is in the states from the U.K pushing her hot new novel FIRST DROP. She was accompanied by Andy, her swarthy body guard, photographer, sex slave, pack-horse, chauffeur and doting husband. We had a wonderful time meeting readers, chatting with booksellers and hanging out. My daughter Madison strong-armed Zoe into buying a copy of her book
ADVENTURES OF KITTY WONDER #2: LOTS OF KILLING and at Mysteries to Die
For, Andy test-drove the owner's new Lexus hybrid. Zoe will be posting some pictures of our whirlwind L.A. tour on her website. You can also check out her road-trip blog.